Drivers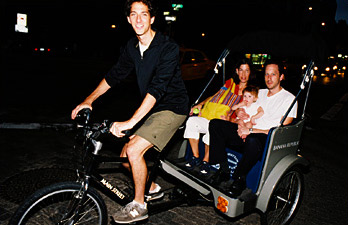 Equally, you must be able to follow traffic laws and signals and abide by the traffic flow as well as speak to your passengers in English. We have suggestions as for passenger fares, but ultimately the pricing of rides is up to the driver based upon number of passengers (limited to 3 by law and by our insurance), route, weather and other conditions. Please have a valid U.S.-issued motor vehicle license, which is our standard of driver qualification for several years now.
We simply ask that you tell the passengers the price ahead of time as a courtesy and as an ethical business practice. Most rides are typically $20-30.00 for two passengers for short distances. Longer rides or tours are quoted differently and can involve guided tour content. We provide stopwatches on our fleet so that you can measure time not distance as you ride. Several of our drivers have taken and passed the NYC tour guide licensing program. This option will be discussed with you if you have an interest in expanding your earning potential. It's a tremendous way to combine content with transportation at a perfect pace for sightseeing.
A training module for new drivers has been perfected over the years that includes 3 separate sessions. Our training program has been featured on "The Apprentice" reality show twice now, most recently in the fall of 2010 (see episode 6 from Season 10). We provide training material and hands on coaching. We charge a fee for this training because it's comprehensive and it includes several additional days/nights of pedicab rental at no additional charge.